Now that summer is nearly (officially) over, I thought I'd show you what my favourite products were from the summer and what I'm looking forward to this Fall.
Sally Hansen Give 'Em The Eye Eyelash Curler
$7 at WalMart
This was definitely my favourite eyelash curler this summer. It curls your lashes in two places so you only need to apply it to your lashes half as many times as you normally would. All other drug store eyelash curlers cannot compare to this one in my opinion. It makes me eyelashes look longer and definitely gives them a great curl.
Almay One Coat Get Up & Grow Mascara in Waterproof
~$6 at Meijer
After curling my lashes, I usually applied this mascara. It not only didn't flake throughout the day, but it also held the curl of my eyelashes in place. It's not difficult to remove and doesn't clump your lashes together.
MAC Paint Pot in Indianwood
$20 at MAC Cosmetics
For a month straight, I only used this as my eyeshadow. It set almost instantly and didn't crease at all throughout the day. I wore it to my friend's wedding this past weekend and it stayed perfect all day. The texture is very smooth and the colour is best described as a satin-metallic golden light brown. I prefer it to Rubenesque which is also a great colour but when applied, looks patchy.
Essence Long Lasting Eye Pencil in Hot Chocolate
~$3 at Shoppers Drug Mart
Indianwood and Hot Chocolate were best friends this summer. I used the both of them almost exclusively during August and September. It's smooth and the perfect matte dark brown.
Benefit Creaseless Cream Shadow/Liner in Busy Signal
~$25 at Shoppers Drug Mart
On days that I wanted a darker look, I applied Busy Signal to the outer corner after applying Indianwood. This also sets very well and made for a great eyeliner when I couldn't find Essence's Hot Chocolate.
Organix Teatree Mint Conditioner
~$5 at Target
I'm not sure if I can wait until Spring 2013 when Target comes to Canada! I bought this when I went to the States and it instantly became my favourite conditioner. The smell is so refreshing and will stay in your hair for about an hour after you condition it. It leaves your hair feeling soft and hydrated. The only downside is that it doesn't come with very much so if you end up loving it like I do, you'll be purchasing it often!
As you can see, my summer was pretty simple (which also explains my lack of posts recently), but I'm confident that the release of Fall collections will bring some exciting posts. Here's what I'm looking forward to this Fall!
Photo from Nouveau Cheap
Fall 2012 Maybelline Color Tattoos
I really hope these come to Canada, but I haven't seen any hint of them being in stores yet! The bronze and the gold look similar to the ones in the permanent collection, but the swatches I have seen prove otherwise. I'm more excited about the other two colours but if Canada doesn't get this collection, I won't be too disappointed. These were released in Canada months before they were in the US so I'm hoping they'll have something exciting to release here for the Winter!
The L'Oreal Project Runway 2012 Collection
!!!! This looks amazing! Mostly because of how they photographed the collection, but the colours look great too. I like the right side more than the left side overall, but if I can find this collection in the US, I'll likely pick and choose from each group.
Wet n Wild's Pick Your Poison Nail Collection
This is likely another US-only collection, but I really hope I can find the green and gold colour online.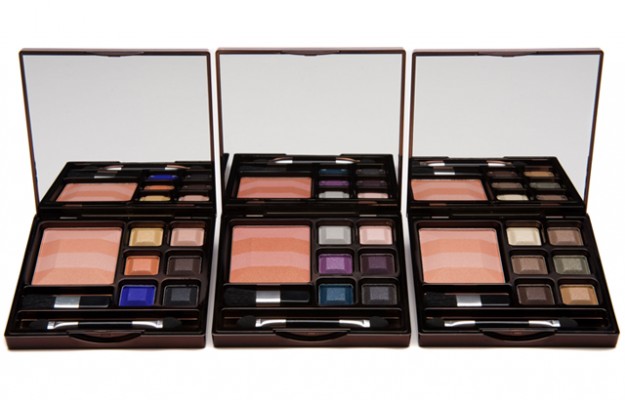 Quo Fall 2012 Collection at Shoppers Drug Mart
I think these are already at Shoppers Drug Mart. Normally Quo products (especially sets) are hit and miss so I'll have to swatch these before I consider purchasing and then reviewing them. The colours look like standard Fall colours so it doesn't look like they put much thought into it.
Annabelle Fall 2012 Collection
This is another Canadian brand found in most Canadian drug stores. Their quality has steadily improved over the years. Most recently they released their version of BB Cream (and other 'BB' products), which I haven't yet tried, but may in the near future. They've decided to release bright colours for fall, along with a bronzer.
That's all for my Summer Favourites and anticipated Fall Collections! Are there any collections that you're looking forward to? I can't wait until Holiday collections are announced!